Network Vulnerability Assessment
Organization networks of current times are constantly at battle with advanced malwares and crimewares. In order to provide more mobility, flexibility, convenience and real time services to customers, partners and employees; organisation networks have increasingly become porous. These continual changes to the IT infrastructure create several new gaps and vulnerabilities, which are serious threat to your critical business data and information systems. Today several automatic, sophisticated 'point- click' kind of hacking tools are easily available online, making network connections more susceptible to attacks. Such malicious attacks could be fatal for your organisation and can lead to serious financial losses, reputation damage, business disruption or downtimes and legal issues.
To avoid such exploitation of your networks, a strong vulnerability management program is a must for today's organisation. Network vulnerability assessment is a key aspect of vulnerability management program that entails check-up of all operating systems, hardware vulnerabilities, network vulnerabilities, system mis-configurations, and policy infractions. The goal of vulnerability management is to have a system that helps to reduce the time and money invested in dealing with vulnerabilities and reduces the risk of vulnerability exposure.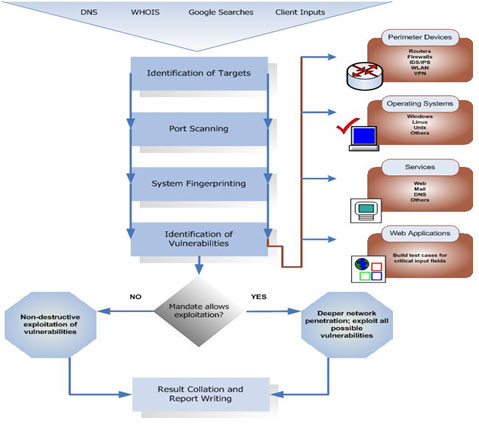 How NDPL can help you in vulnerability assessments?
Comprehensive and accurate scan is a key to thorough network vulnerability assessment exercise. At NDPL we maintain unrivalled vulnerability coverage and scan accuracy, and conduct independent vulnerability research and constant monitoring of industry standard vulnerability lists such as CVE, CERT, and the SANS Top 20.
We scan all of your IT assets against this up-to-date database, deeply examining an entire network infrastructure and probe for complex weaknesses that could lead to an intrusion. Our solution that leverages human intelligence eliminates false positives by verifying the true existence of the vulnerability rather than the simple version check that is performed by most other vulnerability scanners.